In Mississippi, when you tell someone you are heading to Greenville, everyone will tell you to eat at Doe's Eat Place which may or may not be the greatest steak ever (the debate will rage on forever I guess). However, when my wife and I recently took a road trip up through the Delta, we decided to take the road less traveled and after checking out the reviews on Trip Advisor, we decided to try Sherman's Restaurant instead.
What a great choice!
Where Doe's claim to fame may be their steaks, snarky service, tamales and less than perfect ambience, Sherman's niche is more about giving the visitor a more well-rounded experience. Their menu has great steaks on it (I know because the steak I had there was one of the top five steaks I've ever had in my life), but they also have tamales, a variety of soups and salads, appetizers, pasta, burgers, seafood and just about anything else you want.
When we arrived, it was clear that Sherman's was not overly fancy and the dress code was casual. We saw people in jeans and t-shirts and others in jackets and ties. The dining room is simple but nicely appointed with a very home-like appeal. In the far right corner was the bar area with a bar and a few tables separated from the regular dining area by a dark wooden partial wall that was about chest high. You could still see into the bar area over the wall, but there was a clear effort to separate the two sections which I could appreciate for families with children who might want to eat there. The ceiling was low which seemed to add to the coziness of the place and tables and chairs were all comfortable.
Our waitress was a young girl who was not afraid to offer suggestions or answer questions for us. After presenting us with our menus, she told us of the specials and then stayed with us for a few minutes to answer any questions when we told her it was our first time there.
When I took my first look at the menu, I found something I'd never heard of before: fried tamales which is apparently a thing in the Delta. When I did the article on tamales for this website, I had only experienced tamales outside the delta and was completely unaware of this delicacy's existence. So, of course, I had to to give them a try particularly after the waitress said that the fried tamales at Sherman's were her favorites.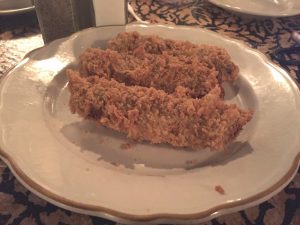 Basically, it's a standard tamale, dunked in a light batter and then deep fried. The meat in the center is ground or minced as opposed to shredded pork or beef which is what I'm most familiar with. As the photo shows, the appetizer comes with three fried tamales on the plate which is probably just the right number for two people.
To me, fried tamales taste a lot like taquitos which are meat wrapped in a corn tortilla and then fried. The ingredients are about the same even if the execution is a lot different. There's not many places in the delta where you cannot get a tamale, but I'm really glad that my first experience with a fried tamale was at Sherman's because they were excellent and even though I tried other fried tamales on the same trip, none of them was equal to the ones at Sherman's.
Sherman's menu shows that they have shrimp bisque which happens to be one of our favorite dishes and so we ordered some even thought we thought there was a salad included with our meals. We were pleasantly surprised to learn from the waitress that you can substitute soup for your salad and that they do it all the time. When our cups of bisque came I found mine was not hot enough and they were very gracious and took it back and heated it until it was perfect. The bisque was amazing and frankly had more shrimp in it than any other shrimp bisque I've ever eaten. The cup was just the right portion to go with our meal, but I could have easily eaten a bowl of this delicious soup!
The wife and I ordered ribeye steaks as our meal and the choices here are plentiful. The first thing you notice on Sherman's menu is that the ribeyes come in two sizes: Small (14-16oz) or Large (20oz). I ended up ordering the Steak and Shrimp which was a small (hah!) ribeye with four gulf shrimp (I got fried, but you can get grilled). The next challenge was picking my side dish to go with my meal. Interestingly, because of the numerous pasta selections on the menu, you can pick pasta as your side dish to go with any entree. In this case, the wife picked the consomme rice and when I found out that I could get asparagus, I picked that.
When the steaks came, we learned that they make their own steak sauce at Sherman's but the waitress offered to bring us the standard A-1 or Heinz 57 if we preferred. We decided to stick with the homemade sauce and it was very tasty, but frankly a good steak doesn't need much and as perfectly done and seasoned as our steaks were, we didn't eat much of the sauce. In fact, my wife asked for a to-go cup just for our sauce so we could take it home with us and not waste it. The asparagus was tender and perfectly done and we ate our steaks with great relish because after our long drive to Greenville, we were quite hungry but the size of the steaks meant we had to pass on desert!
Sherman's is a quite simply one of the best all-around restaurant experiences I've had. It has history and a casual atmosphere, friendly and knowledgeable staff and best of all great food. The cost was reasonable for a dining experience of this quality and about half of what we expected to pay at other Greenville landmarks and we had a wonderful, relaxing meal that couldn't have been better.
From Sherman's website:
Charles & Rosalea Sherman opened Sherman's Grocery Store in 1947 on the corner of South Main Street and Reed Road. While it originally opened as a neighborhood grocery and meat market, they also provided their customers with delicious desserts, charge accounts and home delivery service.

In the late 1950's Charles Sherman Sr. opened a deli in the rear of the store, which once served as the small apartment where he and Rosalea lived. In 1970, Charles, Jr. returned from college to the family business, ran the deli and assisted his father in managing the grocery store.

Charles, Jr. and his wife then bought the grocery and deli from his parents in 1978. In October of 1984, Charles, Jr. decided to change the family business into a full-time lunch and dinner restaurant. In June of 1985, Sherman's Restaurant was born, with his family's blessing.

In 2012, Charles, Jr. decided to retire for more time to spend with family and especially his 3 grandchildren. He sold the restaurant to a local family, Peter & Allison Nimrod. Peter, a civil engineer and Allison, a business owner are both long time residents of Greenville where they are raising their three children.
If you happen to be near Greenville, MS, consider dropping in on Sherman's and fill-up on some of the best food you can get in the Delta. We loved it and we think you will too!